Hypewit was born for the love for fashion. But more for the love of style. Style is more about knowing yourself, staying curious and have a good sense of humour. The essential is to discover new things, new forms of self and others' expression. It's the way to keep yourself together and evolve. Fashion is not enough to be interesting. You need to have diverse interests, you need to use your brain and stay focused.
Hypewit women have real stories, they didn't grow up as princesses, they worked for everything they have, they studied, read, listened, discovered their style and personality, had to bare others cruelty and be optimistic. But they won and will always be winners.
Let's test your true #hypewit background and personality with this short quiz that will clarify whether you're a Kim Kardashian or a Coco Chanel.
1. During school, the last thing before going to sleep was:
a) checking once again you did all your homework, you put all your books and notebooks in the backpack and you didn't forget your favorite pen, with that thick edge you love;
b) preparing the outfit for the next day;
c) sending kisses through the window to your boyfriend who just left your room by jumping down at least 2 floors;
2. Your idea of a sexy outfit is:
a) a pair of large ripped jeans, a pijama silver shirt, lace body underneath and some enormously high-heeled studded ankle boots;
b) black slip dress worn with badass military boots and an oversized masculine red jacket;
c) bandage nude dress worn with high-heeled metallic strappy sandals and a furry jacket; faux fur, of course, we do protect the nature!
3. How would you describe your personal style:
a) full of feminine-masculine contrasts, easy breezy volumes and neutral colors; maybe a pop of green mint or dusty pink from time to time;
b) still trying to figure it out;
c) feminine, I like everything that shows off my curves, sexual and edgy;
4. Which of the outfits below you think is the craziest: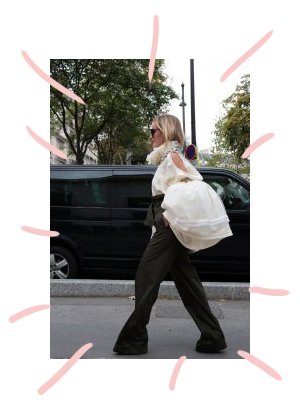 5. Your idea of a comfortable outfit is:
a) a pair of grey knitted joggers and an oversized knitted jumper co-ord with some red velvet plaited mules worn with some stripped socks, of corso;
b) high-waisted straight jeans, a pair of white Superstars and a short hoodie; Vetements, most likely;
c) skinny jeans, lace body under a white shirt; animal print sneakers;
6. If you'd have the money, you'd buy the entire new collections of:
a) Celine, Chloé, Louis Vuitton;
b) Valentino, Dior, Balenciaga;
c) Versace, Saint Laurent, Dolce & Gabbana;
7. Which SATC character are you:
a) definitely Carrie; my tumultuous love life, my experimental style, my crazy girlfriends I couldn't live without … even some of her quotes crossed my mind a couple of times;
b) not sure, I am a mixture of them four; sometimes I am Carrie, sometimes I am as crazy and free as Samantha or shy and mysterious as Charlotte; even serious and ambitious as Miranda;
c) what is this SATC thing: an university, some school courses? You got me at this one 😐
8. Layering is for you … :
a) what the toasted bread is for Nutella; yes, they could live without each other, but what would early mornings be without these two together?
b) a challenge well accepted; I don't always pull it off, but when I do…is fireworks, baby!
c) a way of hiding your body; I rarely do layering, when I'm cold or when I'm going in the mountains;
9. If you had to choose one fabric to wear for the rest of your life, what would you pick?
a) knitwear
b) chiffon
c) leather
10. Three words about your beauty routine:
a) cleanse, moisturize, light foundation;
b) keep it simple;
c) contouring, contouring, contouring;
***

IF YOU ANSWERED:
Mostly A:  Hola, sister! Congratulations, you are as #hypewit as someone can be. You learnt everything on your skin, from how to make it in life to what works best for your complexion. Why assuming a woman can't talk shoes and quantum physics in the same time? You got it, girl! All those years of staying in the shadow, studying and training your brains are paying off now, when style, intelligence and swag are yours! You know style, you know fashion, you know politics, finance, charity and how to be healthy. Keep up the good work, #wearyourbrains, show them that "smart is beautiful" and help others do the same.
Mostly B: Girl, you got something good going on here. You lost your #hypewit track somewhere between making yourself pleasant for the others and following your own dreams and ambitions. Let your brains come out and take control, 'cause they won't like you better if you fake it, they will appreciate you the most when your true self will come out. You got your style going, you know what fits you and what is cool, but you don't dare to express yourself 100%. You know that brains are sexy, you appreciate the edgy grunge fashion à la Vetements, but you wouldn't dare as much as wearing a whole ensemble. Skinny jeans, a pair of fine sandals and a hoodie is the most you could try. Not bad, but If you don't risk, you don't win!
Mostly C:  I'm sorry, you are probably one of those girls who haunted me during school. You seemed to know how to joggle with your sexuality, you were the most popular because of that, I think, and with every occasion you had, you made me feel bad. About the fact that my clothes were horrible; they actually were; about the fact that I had a moustache and hair on my arms; you will never be able to imagine the pain I felt when I first waxed that. No one was born a fashionista or a style icon, but we all came in this world with some brains that we have to use in our favor. Cut the crap and be brave, as I know you are and stay on the right side of the bridge. Forget the false lashes, the exaggerated heels and super fit clothes, loosen up a little bit and enjoy the #hypewit attitude, when 0 f***s are given.